Ev
er wondered if your computer let you do projects in your
idle time? What if your computer could explore projects in almost every niche without troubling you? What if if you could sit and relax and not to stumble upon the web to explore more topics?
This software let you study various topics in your idle time across the globe and let you research on them at your own comfort level.
This software is typically designed for research and yes everything you do like research can be added to your resume thereby building a professional profile
Chill Guys , now here is an Open source software that lets you donate your idle computer time to the projects that you are interested on.The most renowned examples of projects BOINC is familiar with includes
SETI@home, Climateprediction.net, Rosetta@home, World Community Grid etc.
Apart from of this, there are tons of categories and hence projects that allude one's interest.
Here is a list of projects as on the BOINC official site :
Account Management

Cognitive Science Project

Earth and Environmental Science Projects

Linux

Physics

Mathematics

Computing

Biology and Medicine

Astronomy

Artificial Intelligence

Gaming

Multiple Applications
More Details regarding the project can be found on can be found on Boinc
(click on link,wait for a second, then click on skip ad)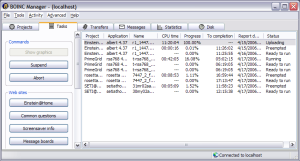 So are you BOINC?
Thanks, Comments, suggestions and almost everything except spam is always welcome :)
Jatin
This work is licensed under a
Creative Commons Attribution-NonCommercial-NoDerivs 3.0 Unported License
.